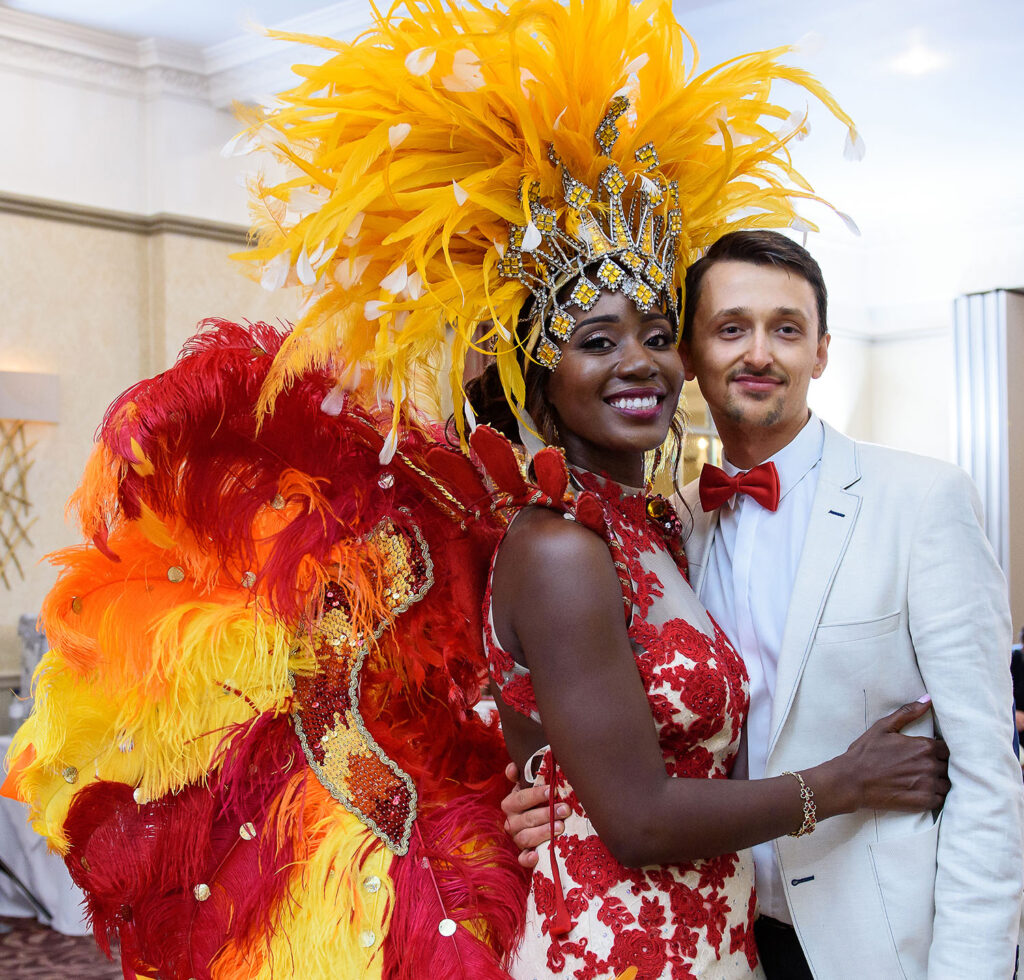 Where are you from?
I was born in the UK and my family are originally from Jamaica. The Jamaican culture reminds me a bit of the Portuguese culture in terms of the laid back, slow paced, family orientated culture with vibrant and friendly people. Jannik is Danish 🇩🇰
What countries have you lived in? 
Between us we have lived in the UK, Denmark, Australia, Spain, the Philippines and Sweden and now Portugal. We like to spend time in Jamaica and Denmark with our families back in the days that we were allowed to travel 🙂
How long have you been together and how did you meet?
We've been together for 8 years this year (2021) and got married almost 6 years ago. It feels like time has flown by. We met in London at a seminar and also got married in London.
How many children do you have?
We have 3 sons who keep us busy and entertained 😊
What do you do for work?
I help tech start-ups scale and optimise their culture and talent through coaching, training and delivering solutions. I've got a background in Human Resources and Business Development. I know a lot about business growth, people development, culture, engagement, and the motivation of people at work having studied to Masters level in the subject! I've previously worked in major corporates as a Director in London helping companies to successfully deliver on their people objectives. I'm currently training as a professional coach to help people reach their full potential in their career.
Jannik has a background in print / digital  media, software engineering and marketing. He helps businesses across Europe to grow and market themselves effectively. He also runs educational courses on personal and business branding, growth and marketing. He shares his knowledge by speaking at events across Europe. I admire his ability to speak publicly. It's not my strength 😬
We also have online retail businesses. 
We'd love to get into Portuguese property and wine marketing in the future. 
Why did you decide to start making YouTube videos? 
Despite doing lots and lots of research when we moved to Portugal, there was so much that we wish we'd known in advance. We want to help others who are planning to relocate. In addition, we want to share our adventures with those who have a love of Portugal 🇵🇹 
Where in Portugal do you live?
About half an hour or so North of Lisbon. Foreigners are the minority where we live and less people speak English which is perfect for us. It means we have to speak Portuguese even if we don't feel so confident. On the other hand, the locals get to practice their English which they are so happy about. We benefit from a fully immersive experience of life in Portugal. Warts and all 😂 
Why did you decide to move to Portugal?
Well I don't think this page is long enough to share it all 🥰🥰
In a nutshell, life in the UK was hectic and costly. We wanted to spend more time as a family rather than working crazy hours like lunatics to live in London where cost of living and property prices are insane. London was great before children but after starting a family, we found it less charming. We were also concerned about escalating crime and the impact that Brexit would have on the country. Don't get us wrong, we still enjoy London but as visitors. We have been to Portugal many times and loved it. Our Portuguese friends are so incredibly patriotic which is wonderful and rare. We've lived in Spain before (which we also love) but Portugal is definitely better suited to us.
---
Work with us